Ready to Find Your League?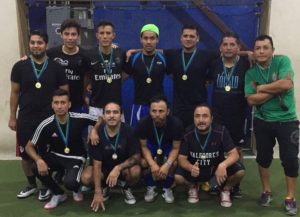 Registration is $400 per team. Men's teams register and pay as a team. The season consists of 8 guaranteed games. All divisions are recreational with Monday's being slightly more competitive.  We do NOT have playoffs in any division. There are no weekly ref fees. You may pay by cash, check or charge at Off The Wall or register the team below. Women are allowed but not required in the men's league.
If you wish to play but don't have a team, contact [email protected] and let him know what division you would like to be in. Be sure to include your contact information, skill level, age, etc. He'll forward it to the team captains in case they need another player or two. Or, post it on Facebook.
Summer 2019 seasons begin:
Mondays  - 6/3/19
Tuesdays - 5/28/19
Wednesdays  - 5/29/19
Fall 2019 Season begins 9/3/19
Beat the Heat
Playing indoors is great fun.  You never have to worry about the weather closing the fields since we're INSIDE with the AIR CONDITIONING on.  It also works on a player's first touch, fitness, and speed of play.  We play 5v5 with a maximum of 8 players on a team.  Player requests will be taken into account but we'll also make every effort to make even teams.  There are NO practices just two 25 minute weekly games for six weeks.  Ages are based on your child's birth year.  This is different from year's past and reflects the change being implemented for outdoor leagues.  The recreation divisions are reserved for recreation level players only.  Sign up now as space is limited.  Don't be left out this season!6 Week season.  You'll have two 25 minute games each week.  Games are either back to back or have a 30 minute break in between.